Paul Norris Fire Service Line Completed!
Funding Provided by the Norris-Rocaberte Family Foundation
A new fire hydrant and fire service line has been installed at Galilee. This project was required by the Tahoe Douglas Fire Protection District to provide fire flow to the camp for fire suppression. The completion of this project is important for two reasons; first it protects the camp with adequate fire suppression capabilities for the first time and it allows Galilee to start planning for a major renovation of the Dining Hall.
The $105,000 project has been fully supported by the Norris-Rocaberte Family Foundation. Thank you to Paul Norris and Rock Rocaberte for providing the funding to complete this essential project. The project is named after Paul's father, also Paul Norris.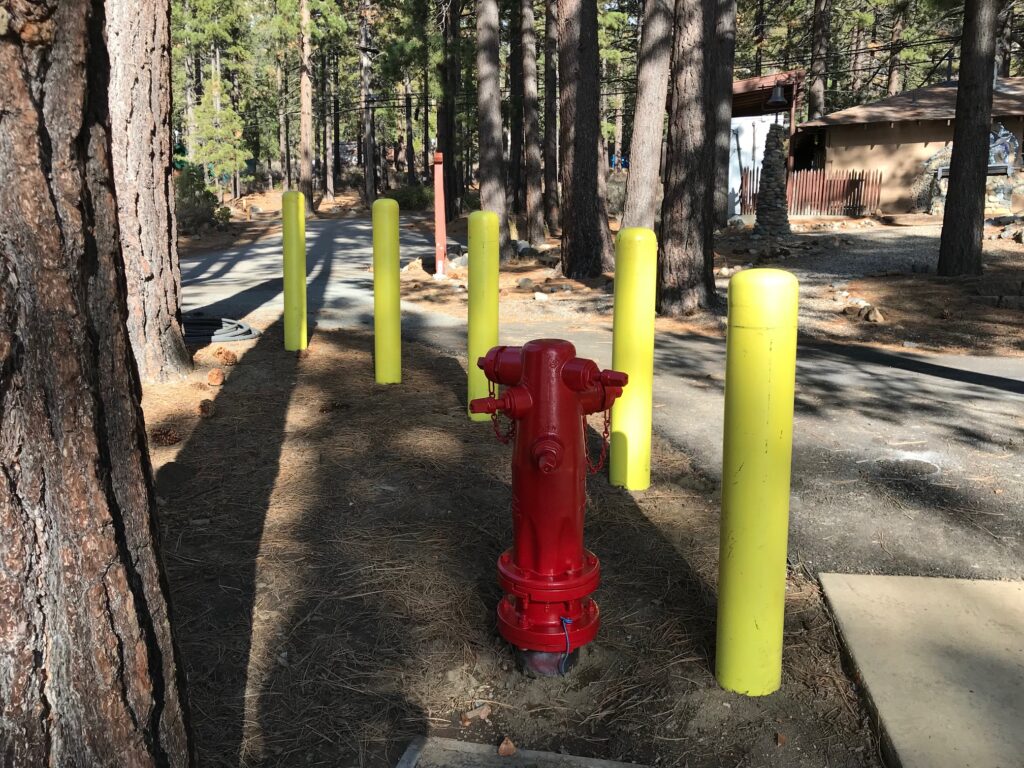 Derby Talbot Lodge Campaign Reaches $420,000!
We thank all of our generous donors who have helped us reach our original goal. Any additional funds will be used to fund various related projects that were not part of the original projected costs. Thank you for your support!
Exciting improvements are coming to Galilee! Jill Derby and Steve Talbot have committed $150,000 to kick-start the project to improve and expand the lower dormitory. This $400,000 project will include a complete renovation of the existing facility, with the addition of a great room and outdoor gathering area. The newly renovated building, which has never been named, will now be called the Derby Talbot Lodge, to honor Jill and Steve's generosity. They wrote:
" Since first attending Galilee in 1948, the world has changed in complexity, tenor and pace. In the midst of this restless and unpredictable world, Galilee remains a quiet space of enduring spiritual renewal and grace – an anchor for the soul in a churning sea. We are committed that this treasure of ground and hearts advance and thrive."
~ Jill Derby and Steve Talbot
The Project will: (See Floor plan)
• improve the existing building with updated bedrooms and bathrooms for greater privacy for our adult guests.
• meet ADA requirements by adding a ramp, fully accessible bathroom facilities and sufficient space in the bedrooms.
• add a meeting room that accommodates up to 25 people.
• provide an outdoor gathering place with fire ring.
Chambers Hall Named!
Linda Chambers Faiss Amstutz remembers visiting Galilee as a young girl with her parents, Louise and Larry Chambers. Linda's father laid out the foundation for the church at an angle that would put the snow cross on Mt. Tallac right above the altar. To honor this family history, Linda and her husband Jim Amstutz have provided the second lead gift for the Derby Talbot Lodge campaign; a $50,000 gift for the new meeting room. The room will be named after Linda's parents and will be known as Chambers Hall, honoring the legacy of her father's work. From the vantage point of Chambers Hall, the church, the lake, and the mountains beyond will inspire generations of people to come, as Linda and Jim have been. Click here for more of Linda's remembrances.
Trinity Episcopal Cathedral, Reno commits $25,000
The Trinity vestry approved a $25,000 commitment to the Derby Talbot Lodge campaign and is sponsoring one of the four renovated bedrooms. The Campaign Team is deeply grateful for this strong commitment to the project, which has raised the pledge total nearly to $295,000. Thank you Trinity for your strong support! It is a pleasure to work with you to improve and sustain Galilee for future generations!